Envision Financial Sponsors November Development Ice
---
---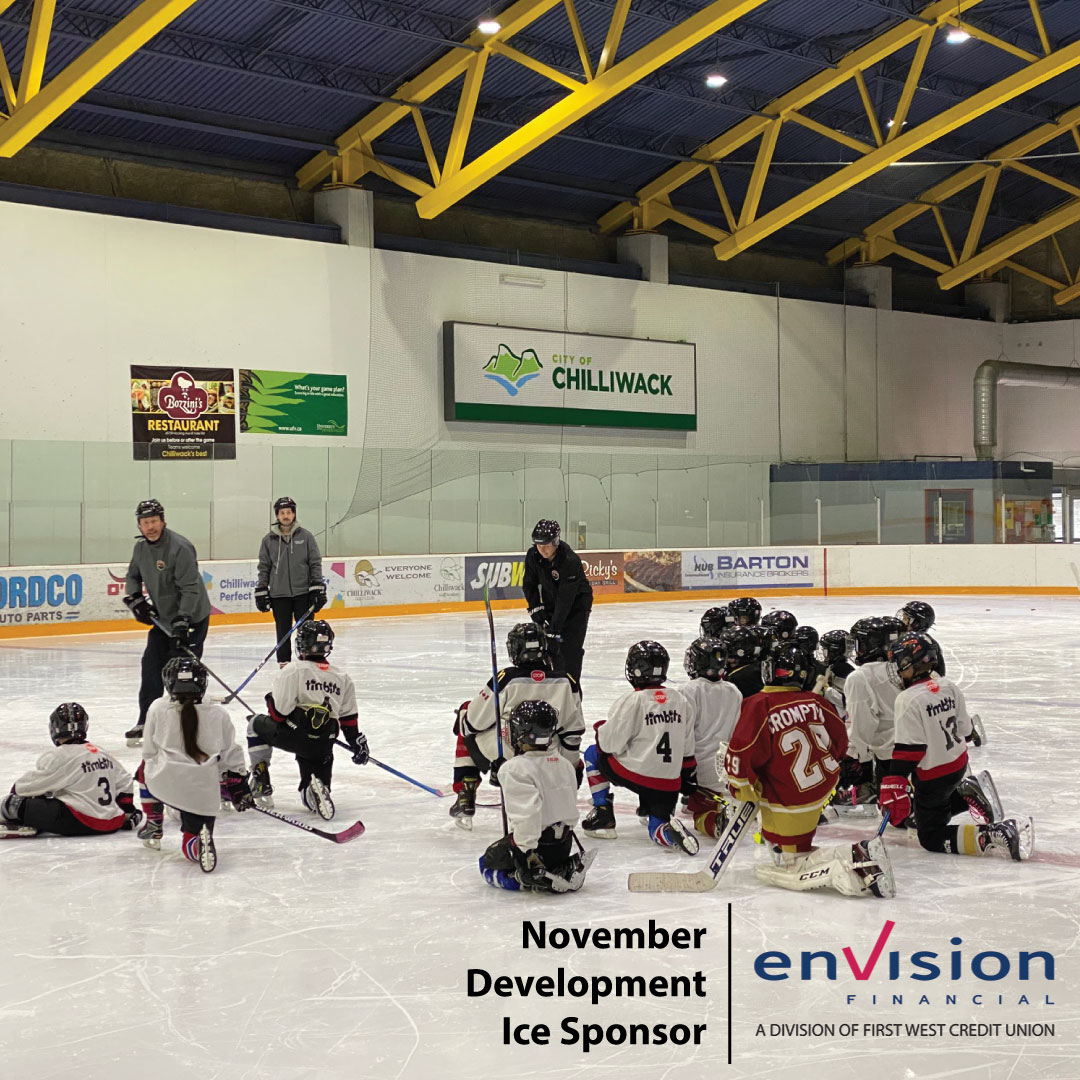 ---

Envision Financial has generously partnered with the Chilliwack Minor Hockey Association to sponsor Development Ice TImes for November 2022. Their support lets the Chilliwack Minor Hockey Association provide additional ice times that are led by professional coaches.
The supplemental Development Ice is part of the CMHA strategy to bolster the development of our players in a way that doesn't increase the overall registration costs of hockey. All players benefit from the additional development opportunities - from the rep players representing CMHA at the highest levels to the rec division players honing their skills in house league. Players at all levels want the chance to raise their overall skill. Players thrive when they are challenged when every kid gets the chance to get better the skill level of the entire association goes up. We believe this is a sign of a healthy association.
The sessions are technically focused, with coaches working the participants through little progressions towards skill mastery. Envision Financial's support is helping make sure that our players skating, puck control, and shooting are meeting or exceeding the competition.
Envision Financial wanted to partner with us on a program where both the players and the coaches are able to grow their skills. The majority of Chilliwack Minor Hockey coaches are volunteers and by supporting the Development Ice sessions Envision Financial gives them an opportunity to work alongside professional coaches and learn from them. Getting a chance to see how best to build a practice plan and lead kids through an hour-long on-ice session.
Chilliwack Minor Hockey has been putting significant time and thought into our development strategy. CMHA has hired Chilliwack Cheifs assistant coach Brad Rhelia to head up their coach and player development. This includes providing our volunteer coaches with training and resources to become better leaders of their teams. He coordinates the Development Ice, recruiting from his wide network of professional coaches. The improved development program has seen great results, with many players using their skills to move up a division.
Thank you to Envision Financial for investing in their community. Their commitment to Chilliwack is appreciated. Envision Financial is a credit union that offers a one-stop shop for all your financial needs. Whether you're setting up a team account, looking to invest, or need some financial advice you can find what you are looking for at https://www.envisionfinancial.ca/.