School District 33 & Chilliwack Minor Hockey Partnership
---
---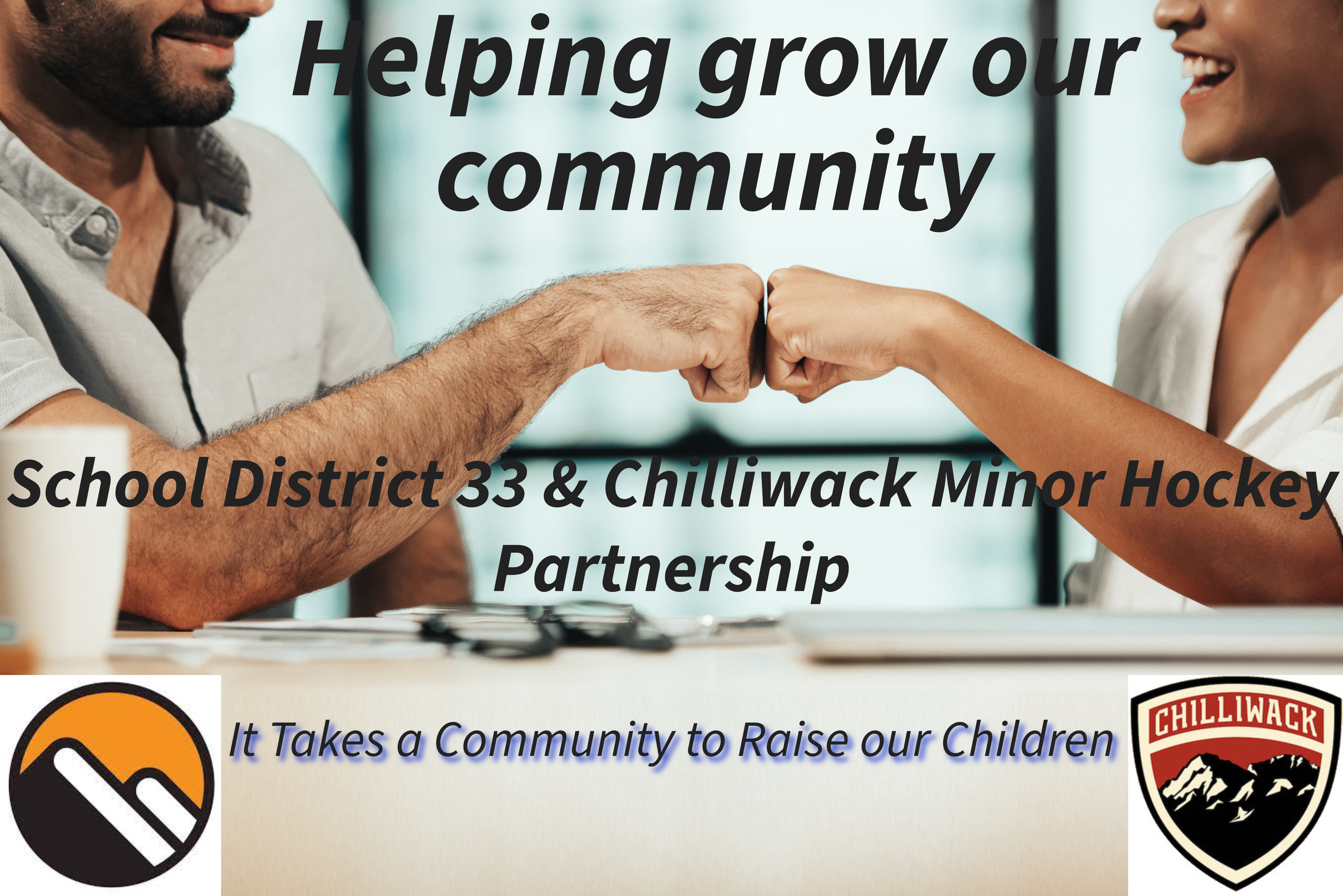 ---
Community Partners
SCHOOL DISTRICT 33/CHILLIWACK MINOR HOCKEY ASSOCIATION
Our association has a strong belief in,
Fairness of play In our community, School District 33 is seeking quality work experience programs with solid fundamentals and outlines. The students are required a certain amount of work experience hours to graduate.
We believe this is a great fit with Chilliwack Minor Hockey and this is why.
Chilliwack Minor Hockey is a proud Nonprofit association in the Chilliwack Community.
For decades Chilliwack Minor Hockey has been a foundational cornerstone in our community. Thousands of kids have gone into minor hockey over the years building great life skills. Presently we facilitate roughly 800 plus kids a year. It is our hope and pride that we gave/give them several tools to prepare for life.
Sportsmanship
Coach/player mentorship/development
Equality
Zero bullying policy
The Board members are a proud group of parents that donate their time for these beliefs.
General outline of tasks and duties,
Public relations:
Utilizing time to promote:

Events
Sponsors
Social media
Local media
Photo/video editing
Result write-ups.
Data entry
Helping allocate sponsorships.
Events
Set up
Take down.

Canopies
Banners
Posters
Flyer's

Directing team's staff/players
Timekeeper/score keeper
Prepping team goodie bags
Check in table.
Helping director/coordinator with various tasks in the building.
General tasks
Keeping equipment room organized

Jerseys
Event items
Practice tools
ETC.
Educational Benefit
These tasks will help these students greatly moving into this field if they desire.
Social media
Sponsorship
Fundraising
Promotion's
Coordinating/Directing:
Working alongside our directors and coordinators will be a great help for anyone that wants a career in management.
New innovative ideas are welcome!